Should You Quit Your Job to Care for a Senior Parent?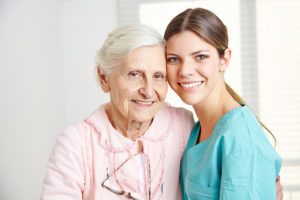 As our elders age, you may find yourself checking in on them weekly to see how their health is as well as help around the house. You may find yourself deciding between continuing these visits or placing them in a care facility until further arrangements can be made. You may even feel the tug at your heart strings to care for them yourself – an undertaking that may prove difficult for you and your family. Your loved one wishes for you to take care of them instead of a stranger. As you agree, you may be pondering leaving your job to care for your senior parent versus being a working caregiver.
Why Quit?
It may seem easy to justify quitting your job for many reasons. Some of these reasons include:
You know your loved ones needs personally like no one else.
You will save money due to not using a care facility or specialized care.
Your loved one will be happy knowing you are there.
However, this trying time may be difficult to deal with, even with these pros. However, what do you stand to lose by quitting?
Your income.
Your financial future including your retirement.
Benefits of employment such as insurance.
Crucial job skills.
You may find yourself dealing with caregiver isolation due to being a full-time caregiver, even for a family member. What is important to remember here is that your livelihood is important too and there is help out there for you and your loved one.
In-Home Care
Comfort Keepers specializes in offering the best Santa Clarita in-home care for your loved one. They are not strangers. In fact, they learn about your family member and become part of the family as well. Your loved one will feel comforted and safe with Comfort Keepers instead of isolated. By allowing you to be a part of their success, while keeping your employment, Comfort Keepers is there to help with the daily tasks of living as well as running errands, personal care and more. Call Comfort Keepers in Santa Clarita today to see what they can do for you and your family.
Comfort Keepers
23900 Lyons Avenue
Santa Clarita, CA 91321
661-287-4200