Prevent Wandering Seniors with Dementia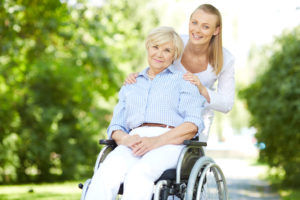 Senior dementia is a disease well known to the elderly world. Unfortunately, your own loved ones could be suffering from dementia. One of the most difficult parts of dementia is your loved one's inability to be left alone due to their wandering capabilities. Three out of five people with dementia will wander, leaving you doubting your ability to care for your loved one, twenty-four hours a day. Comfort Keepers understands these episodes and wants to help. Here are some ways to prevent the worst from happening.
Ways to Prevent Wandering and Consequences
There are ways to prevent wandering when it comes to senior dementia. These easy preventative measures will help keep your loved one safe:
Use safety precautions such as alarm systems or special locks for the door. When you are not around, the chance for them to wander is higher. You can add a keypad lock that uses a special code to keep the doors locked. Or, you can install a lock higher on the door frame where your loved one cannot reach it. An alarm system will alert you or whoever else on your care team that your loved one is trying to wander.
You can install a fence with a locked gate. You can hide car keys and other items they may attempt to use. You can also let the neighbors know that your loved one is prone to wander and who they can call in case of an emergency.
If your senior were to wander, what can you do to stop further injury or harm?
Make sure to mark their clothing. You can add their address, info and a phone number to whom they can call if they are found.
Have them wear a bracelet with contact information just in case they were to get lost.
Keep a current photo of your loved one with you at all times. If the police were to search for him or her, you would have a current photo of what they look like.
Unfortunately, it can be difficult to keep your loved one from wandering if you are not with them at all times. Fortunately, Comfort Keepers in Santa Clarita is here to help. Specializing in senior dementia, we understand the need for constant care so we offer a wide variety of services for both you and your senior loved ones. Give us a call today to discuss how we can help.
Comfort Keepers
23900 Lyons Avenue
Santa Clarita, CA 91321
661-287-4200