In Home Senior Care for Valencia CA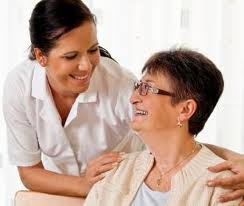 Do you have a loved one that is growing in age? Perhaps you are wanting to prepare their home for a time when assistance will be needed. If you find yourself in this position, you should know you are not alone. In home senior care is a great and perfect option for the elderly who wish to remain independent with the help of a loving and kind caregiver. In Valencia, California, there are many options to choose from. However, Comfort Keepers in home senior care is a superb option for you and your family.
What Services Are Offered?
Comfort Keepers offers many services for you and your family. Whether your loved one is able to continue everyday tasks or they need assistance during the day, we are here to help. Some of the services we offer include:
Companion Care – This includes services such as light housekeeping, meal prep help, errand running, grocery shopping, transportation and activities within the home.
Personal Care – Includes help with bathing and personal care, grooming, transferring, toileting and other general needs.
Dementia Care – Specialized care by trained individuals through many offices located around Valencia, California
Respite Care – This type of care is offered if you are the primary caregiver of your loved one. This allows you to take a much-needed break and to allow you time to complete your own affairs, at any time.
Other care is available to fit your specific needs and the needs of your loved one. We remain customizable to fit your needs and give you the care your loved one deserves. We aim to keep your loved one protected, happy and as independent as possible. At Comfort Keepers in Valencia, California, we want to feel like family. Give us a call today to see what in home senior care services are available today.
Comfort Keepers
23900 Lyons Avenue
Santa Clarita, CA 91321
661-287-4200