Comfort Keepers® Offers Complete In-Home Care Services & Solutions
In the days of old, it was thought that the only choice in care services for seniors was a nursing home, assisted living community or another care center solution. However, we know there is another alternative and that is Comfort Keepers®, a new approach to in-home care in Santa Clarita.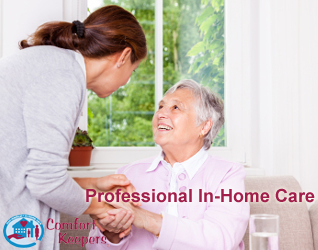 With over a decade of experience in providing quality, loving, in-home services, we take pride in providing the right mix of services to your loved ones. We want to makes sure that our clients can maintain their quality of life, remain safe while in their homes and most importantly, live an independent life.
Some of our services include:
Companion Care services to help with light housekeeping, meal preparation, errands, incidental transportation, grocery shopping and recreational activities.
Personal Care for bathing, grooming, hygiene, transferring, toileting, and other needs.
In-Home Safety Technologies, through SafetyChoice® by Comfort Keepers, to protect your loved one around the clock.
Dementia Care provided by specially trained caregivers through many of our local offices.
Respite Care to give family caregivers needed relief.
Our Comfort Keepers® come from all walks of life but are highly skilled in providing the loving care that your loved one needs. Their services help your senior life the life they want right where they want to be……at home.
Our unique approach to care giving is what we like to call Interactive Caregiving™ and it allows us stimulate our clients, engage them in various activities in life so that they can maintain physical fitness as well as stay emotionally satisfied in their own environment.
Our goal is stay connected with you so that you know exactly how your loved one is doing. This will allow us to change services as the needs of your loved one changes. We're here to help you and your loved one. Peace of mind for you; independence for your loved one. That's what we provide.
Comfort Keepers services include, but are not limited to:
Companionship Care and Homemaking, such as meal preparation, conversation, incidental transportation, mobility, light housekeeping, errand-running, medication reminders, relief for family caregivers, laundry, grocery shopping, recreational activities, mail assistance, communication with family and tender loving care.
Personal Care, such as special-diet meal preparation, hygiene and bathing, transferring and positioning, incontinence care, toileting, feeding and oral hygiene.
Home Safety Technology Solutions, such as a personal emergency response system (PERS) and medication management device that can supplement care provided by family and professional caregivers.
Alzheimer's Disease and Dementia Care, which include:
Assisting with dressing and grooming
Providing healthy eating plans
Aiding communication skills
Implementing home safety measures to prevent wandering or driving
Offering families a respite from trained caregivers
Physical Assistance for clients recovering at home from stroke or heart attack.