Interactive Care from Comfort Keepers in Santa Clarita
When it comes to your senior loved one, you want only the best. When you call on the services of an in home care service in Santa Clarita, they will likely provide the assistance necessary, but what else do they have to offer? Comfort Keepers offers an exclusive Interactive Care program that helps to increase the independence and quality of life of seniors, by providing a much higher level of home care than anyone else in the business.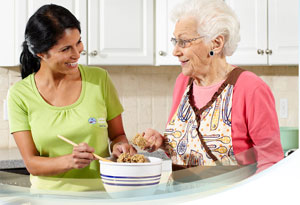 Like all the other home care providers in Santa Clarita, Comfort Keepers are dedicated to providing personal care, housekeeping services and companionship that aid seniors in regard to being able to stay in their home. However, with the Interactive Caregiving training each caregiver receives, these caregivers go above and beyond your typical experience.
Dedication to keep Seniors Active and Engaged
The caregivers from Comfort Keepers will ensure that seniors take an active role in their care. The caregivers will interact with seniors socially, mentally and physically, ensuring they look forward to what they are doing every single day. This includes going for walks, visiting friends, participating in a hobby or anything else that the senior enjoys.
The result of Interactive Caregiving is a safer, healthier and more fulfilled life – all in the comfort of their very own home.
The Difference of Interactive Caregiving
The training for in home care providers is extensive. They are taught how their presence and methods can help to improve the quality of life of their seniors. Each person that is qualified to be a caregiver has to complete this program to ensure they are qualified to offer this type of help. Some of the ways that caregivers will interact with senior clients include:
Helping them stay active to promote a happier and healthier life.
Ensuring they are well-nourished so they will be more energetic.
Providing a safe environment to reduce the chances of accidents.
There is no reason to leave your senior loved one's health and well-being in the hands of just any in home care provider in Santa Clarita. When you call on the services of Comfort Keepers, each care provider will ensure that your senior receives top notch care and they will benefit from the Interactive Caregiving difference.
Comfort Keepers
23900 Lyons Avenue
Santa Clarita, CA 91321
661-430-6687