In-Home Care From Comfort Keepers Santa Clarita
For families living away from their loved elderly members, services from Comfort Keepers Santa Clarita offers a peace of mind. Whatever your loved one's needs may be, Comfort Keepers will cover them and keep you regularly updated.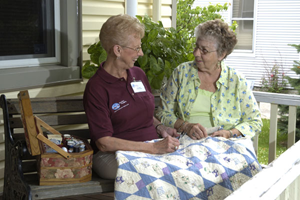 We work case by case with the elderly and their families to develop an individualized care plan. In-home services give the elderly a sense of independence, safety, dignity, and comfort.
Comfort Keepers Santa Clarita offers a comprehensive care plan including the following services and more.
Companionship/Care Services
Conversation and Companionship: simply socializing with the seniors to provide social contact, increasing happiness and quality of life.
Errand/Organizational services: such as picking up prescriptions, deliveries, post office, sorting mail, paying bills on time, etc.
Transportation: caregivers can transport the elderly to their doctor appointments, salons, shopping centers, or wherever they need and wish to go.
Light housekeeping: including vacuuming, dusting, sweeping floors, cleaning bathrooms and kitchen countertops, taking out the trash, organizing closets and drawers, etc.
Medication Reminders: Although caregivers cannot administer medications, they can remind the client to take their medication at the proper times, and assist with opening containers and reading labels.
Personal Care Services
Feeding: caregivers will assist with all feeding needs including grocery shopping, meal preparation, and cleaning.
Bathing and Grooming Guidance: bathing to maintain proper hygiene, including dressing, undressing, brushing teeth, and standard hygienic care.
Toileting Assistance: help elderly maintain dignity while assisting with their declining control of body functions.
Posture and Movement: help seniors maintain physical activity to prevent stiffening muscles, and promote proper breathing, digestion, and blood flow.
While this is only a short list of the most commonly requested in-home care services, there are numerous other services that Comfort Keepers Santa Clarita offers. Please contact us to schedule an appointment, where we can go over your loved ones personal needs and care plan!
Comfort Keepers Santa Clarita
23900 Lyons Aveune
Santa Clarita, CA 91321
661-287-4200